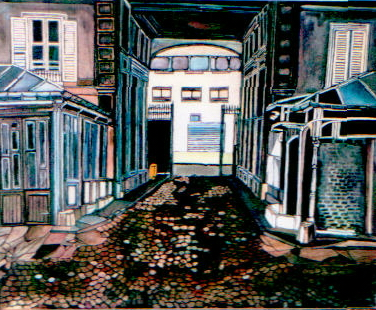 La Cour de la Rue St. Maur
Jean-Jacques Levy was awarded first prize at the 1989 Grand Prix International de Deauville (France) for this chef-d'ouvre.
Framed oil-painting 65x53 cm (25.5 x 21 in).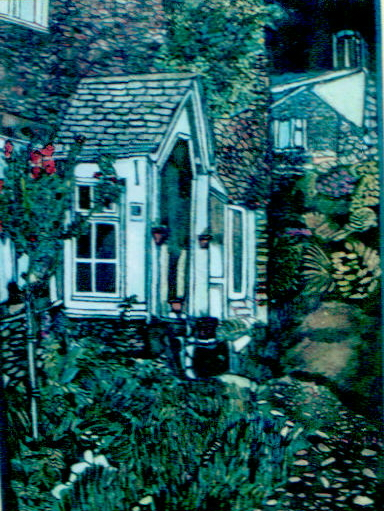 La Maison de Kate
"When you look at a painting of Jean-Jacques Levy, you see that his goal is not to depict reality but rather to suggest a dreamy Parisian atmosphere from the 19th century."
-- Didier Rocher, Salon du Centre Culturel Galliera
Oil-painting (10 x 13 in). Sold recently on E-Bay.
Kibboutz
This painting will soon be available for sale on E-Bay. Please contact us for additional information.
Biography
Jean-Jacques Levy is a graduate of the Ecole des Beaux Arts in Paris, where he studied painting. In 1989, he received first prize at the Grand Prix International de Deauville (France) for his painting La Cour de la Rue Saint Maur, now on exhibition in the Alliance Française in Philadelphia.

Jean-Jacques Levy has exhibited his work in Rome, in Paris at the Grand Palais, and at the Galliera Palazzo Rosso in Genoa --- the cultural center of the French Consulate in Italy, where his work is currently on display.

For the first time, Jean-Jacques Levy is making his work available over the Internet.

His chef-d'ouvre La Cour de la Rue Saint Maur and his lovely painting La Maison de Kate are available for online bidding now through December 11, 1999.

Please contact us if you would like to be notified when other works by Jean-Jacques Levy become available, or consult his catalog of personalized Judaica.
---
Information
For all inquires, kindly contact Jean-Jacques Levy
All copyrights reserved ADAGP no. 1423391.
Sign My Guestbook
View My Guestbook